BattleStats.com Information
RS Multiplayer Hub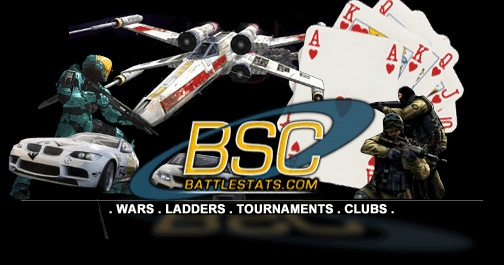 Description:
BattleStats.com is a game competition hosting site that is run by the collection of groups known as the Dark Jedi Organization (DJO). This site offers the facilities to host and record the statistics for multiplayer competitions as long as the club has an active registry and membership profiles at the site. BattleStats can host competitions for a large variety of games and platforms such as X-Wing vs. TIE Fighter, X-Wing Alliance, Jedi Outcast, Jedi Academy, Battlefront (I and II), and many other non-Star Wars games.
Signing up an Account:
Navigate to http://www.battlestats.com/players/register.php.
Create a callsign identifiable with your RS profile.
Once you have confirmed your account, log in with your player ID and edit your profile.
To sign up with the RS in BSC, click on New Club under Player Club/Division Info.
Type in Rebel Squadrons in the field labeled Name/ID.
Fill in your current rank and submit your membership request.
If you're account isn't accepted to the Rebel Squadrons BSC group within a day or so, contact ADM David "Heavy" Pasiechnyk to expedite the process.
Participating in an Event:
All of the current and upcoming events listed at BattleStats can be found at http://www.battlestats.com/events/?ed=newin. Here you will be able to click on the names of the competitions to navigate to the information page for that competition. You will be able to participate in any events that the RS has signed up for, which can be determined by checking the bottom of the information page in the 'Participating Clubs' section. If there is a competition that you would like to participate in but the RS is not signed up for, contact ADM David "Heavy" Pasiechnyk to make him aware of the competition so that he may get in contact with the competition hosts to determine eligibility for signing up.
For those competitions that the RS is already signed up for, read all event rules before participating so that you are familiar with what is and is not acceptable, as well as for information regarding how to find opponents and report matches.